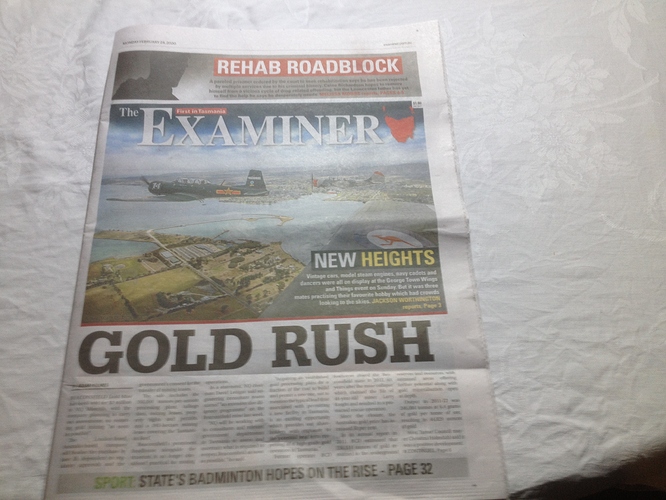 This is the sensational headline in todays Examiner. The 'gold rush' is actually NQ Minerals buying Beaconsfield Gold Mine and infrastructure for $2 million. Thats a bargain. NQ also own the Hellyer Mine. NQ want to mine the Tasmania Reef. If it goes ahead they will not use the old headframe which is now a museum piece.
If all the permits etc go through how hard would it be to start? I would say quite hard and expensive. I went down 1 kilometer when the mine was owned by BCD Resources. I'm not an expert but I know the area quite well. They would have to open-up an old shaft like the Golden Gate, Phoenix or Bonanza, or build a new decline.
They would have to access the old decline somewhere I would say, and de-water the mine. I don't know if the electric pumps were removed or not. I understood they ran 24/7.
There was an air inlet shaft which is in the main street near the fire station but it has been cemented over. It was for sale but nobody bought it. The return air shaft is still operational and now the only way to enter the mine. Its next to a cement plant. Could they use this as a main shaft?
The reef was last mined at 1.2 kilometers below the surface and was still payable. They are expecting between 8.8 and 32.4 grams per tonne. The price of gold is higher than it was when production stopped in 2012.
NQ Minerals are a consortium with 31.3% owned from a Virgin Islands partnership and 6% owned by NZ's KIWIOZ.
I love mining, the only thing I don't miss are the 'seismic events' that are really earthquakes. They would shake the floor and rattle the windows.