Lovely fouled anchor buckle Sly ! Many people associate the fouled anchor symbol with the navy but i know it was also a trade brand that turned up on a number of older items . My opinion only but i suggest yours is not naval as the construction is very light by military standards , and there is no royal crown above the anchor . Corker of a find that i would be proud to find . Congrats .
Oh thanks mate that is why I asked. I found the Royal navy marines but mine dose not have crown and that was throwing me off. Do you have any info on what was traded under this trade mark.
maybe something related to the army and navy stores
Maybe the merchant navy, lots of buttons with that design but a buckle is something special, awesomefind!
Dave could be on the mark with the merchant navy . In the past i have found a battery torch with the fouled anchor mark , i think Dave may have too . Also a couple of small tins with the mark on the top . And a pendant that i can think of .
Think so closest I can find to it in military is German ww2 Navy dress buckle I will keep searching I would love to find out for sure this is fun



Found this Victorian Boys Naval Brigade buckle circa 1897 on the net looks quite similar it said it was a victoria australia buckle so that may fit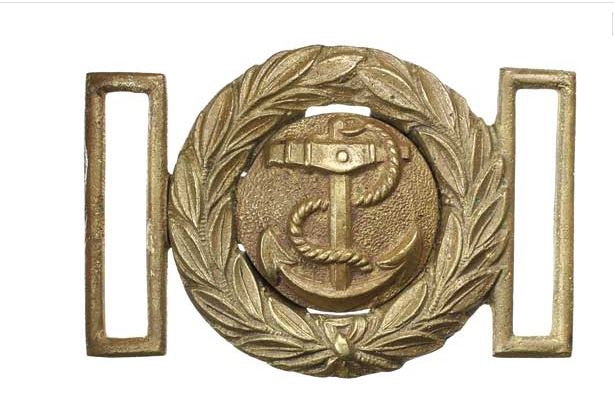 Wow I'm getting so confused been told so many different things its hard to know which one it is. Sweet find mate