Bloody ripper Dave ! Cannot remember seeing that one in Brian's buckle book . You may have found a new variety . Congrats mate .
Yeah,couldn't find it in the book either. Was a couple featuring a cricket ball but none with 4 balls!
A nice find for sure.
Here is the link to The Australian Detectorist Recovered Cricket Buckle Book
I'm yet to find a cricket buckle but they came in a huge range of designs. They seem to be more about the game itself than actual teams but there were teams and tours as well.
I think the 'The Ball Clasp' was a bag for carrying cricket balls. A cricket belt probably signified a person was a 'gentleman' but it was good to see some prisoners wearing cricket belts in the book.
A good find! Certainly a distinct design lol
I also like your Casper the Ghost at top right too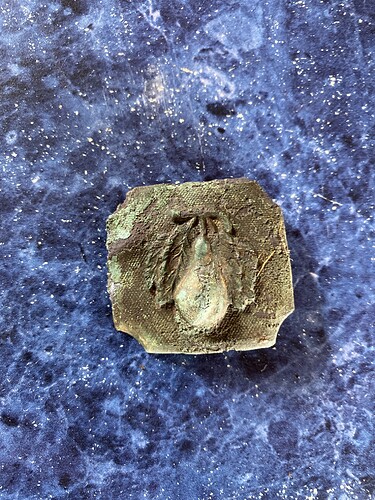 found this buckle on chudleigh cricket pitch looks like a pear on it any thoughts on age or team or if even a cricket buckle
Good find but a bit of a mystery ! What's on the back ?
That's an odd one for sure, never seen anything like it.
Interesting find!
Definitely a belt buckle and yes, certainly looks like a pear.
Got some age to it

Buckle all right , sadly no registration diamond . While it looks like a pear i wonder if it could of been a punching bag , which would make it a boxing buckle ? But it does look like a branch with leaves and fruit , strange one indeed !