Hi All. i notice there has been not much feedback from the trip to the Pilbara so here goes !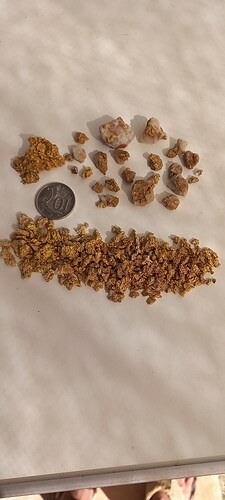 Fox ,myself and later joined by AH and Craig and Ron W. teamed up with Lindsay ,Phil,Kevin and Peter. we worked not far from town and all in all had a great time , detecting in different directions daily and sitting by the fire out bush evenings for a show and tell and a few beverages
. needless to say everyone got their share of the yellow stuff ! the pic is what i managed to score myself ! the larger piece is 24grams , many speccies with about 20grams attached. the rest you can guess for yourselves

i wont elaborate on what each got as thats their stories and AMAZING STORIES they are. i would like to thank Ron Gregory for sending his 6000 up for me to try. thkx Ron. i find the 6000 to be a very good lightweight detector and very impressed by its sensitivity on small gold at depth.! it will also find larger gold deep
.Great Machine but does have some teething issues. All in all a terrific trip away . cheers everyone.