Dug this bit of history today I thought it was kids pay money then I looked it up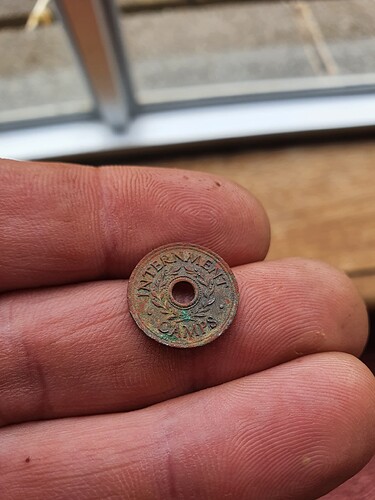 ![20211121_172240|375x500](upload://juf8qyIdiqulb9
strong text
yKbHvPbbhr6Du.jpeg)
Internment tokens are a highly valued find on the big island . Finding one here is outstanding , hope you bought a lotto ticket straight away ! Huge congrats .
Thought it was a dirty one cent then as I was cleaning it. Then thought kids play money then Thought hang on looked it up and mind blow


started to shake a little





Yes there was and Deloraine, Burnie, Launceston and Scottsdale. And farms paid one pound a week for each prisoner to work on there farms. I found this in Railton at an old church that's not in use anymore. Some prisoner's where used in the kentish district
Interesting list Karl . I could only find Brighton and Bruny Island in The National Archives of Australia . In any case it's the only internment token found in Tassie that i have ever seen , they are scarce on the mainland even though they had some massive camps . I wonder if the coins were used here much as many prisoners were placed on farms . My grandfather had an Italian POW working on his vegetable farms . My father said he was so pleased to be out of the war he used to sing as he rode his bike , unsupervised , to and from work . He was liked by all but specially by the ladies , leaving several children in the Scottsdale area ! When he was transferred to the Devonport area one local lady walked all the way there to be with him ! This was documented in a local paper , bit of scandal there . My father said all the local POW's were treated like locals with no trouble , living with assigned families . I doubt they were paid in internment money . Wish dad was still around so i could ask him more .
Good research there Ben .
You are right mate Brighton was the main camp and if you played up you was sent back there to be corrected

Congratulations on the find Ben. Might get the misses off your back for a week or two mate.

Thats some story Curt


This page has the internment camps denominations. Notice they are all the same size? Nearly all were melted down so no wonder they are now so rare? Another amazing bit of our history.
I think that my grandfather/ Bens great grandfather had Italian POWS working on his farm at Telita near Derby