Hi everyone,
Our Next field trip will be to Ron Gregory's lease in Back Creek, on Saturday the 24th of April 2021. We will have a short General Meeting at 9:00, followed by a day of fossicking. The trip is free for members, and if you're interested in joining up, you can do so on the day.
There will be a dawn service to mark ANZAC day on the Sunday, conducted by Ron. Please read up on the trip rules and timing, as these have changed compared to normal.
We will be having a raffle and activities similar to October of last year. We will have buckets of wash guaranteed to have gold. Due to some objections from MRT, wash will be made up with gold that the association has purchased, so there will be a minimum known amount in each measure of dirt.
Back Creek contains shallow historical workings and is a good location for detecting small nuggets, and a few nuggets and specimens have been found in recent times, up to close to an ounce. PMAT has been there a few times, and every time people have detected gold. There is also a large pond for panning, or in case you want to bring your highbanker.
The main meeting place will be the historic shacks on Ringswandls Road (off Back Creek Rd).
The area has a lot of historical mining works, including open-cuts, pits, trenches and shafts. If you'll be joining us. Please be aware of where you step and understand that you enter at your own risk.
GETTING THERE
Most of you probably know how to get to the lease. For those of you who don't, the lease is on Back Creek Road, which starts behind the Pipers River shop (on Bridport Road). We will meet at the area of 1930s shacks on Ringsgwandls Rd .
In the map above, this is where the road crosses a creek marked 'Spring Creek', just to the NW of a pond.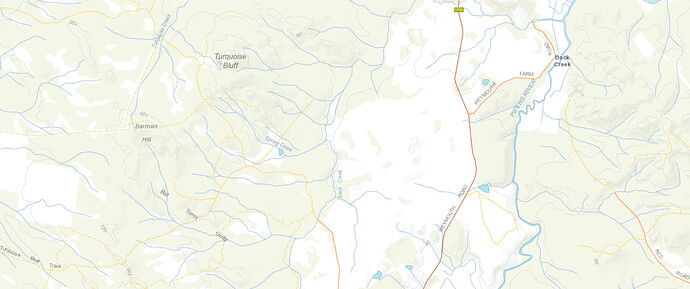 Camping
Ron has invited members who want to to camp at the lease on Friday and Saturday nights. A couple of things to keep in mind:
No arrivals before 1:00 pm on Friday unless by prior arrangement with Ron
No-one to remain on site past 5:00 pm on Sunday unless by prior arrangement with Ron
There is no potable water on site, so please bring your own
There is now a flushing toilet and water for washing (non-potable)
Rules
As we'll be working inside a current mining lease, there are some conditions to attending, please read these carefully:
Please RSVP for this trip on info@pmat.org.au by Wednesday 21st of April
All attendees will need to fill in a sign-in sheet on arrival, and sign out at the end of the trip.
All attendees will have to complete an indemnity form on arrival, acknowledging the risks of accessing an area of current and historical mining works, and absolving the leaseholders of liability
All gold found is to be reported to Ron, as royalties have to be paid. Pieces under 5 g are yours to keep, but any pieces over 5 g will involve negotiating the portion of their weight over 5 g (whether by selling them to Ron or paying a proportion of the weight over 5 g to keep them). Ron will explain the detail on the day.
The area contains abundant mining heritage. Please be respectful of this and of any lease property.
Any areas of current workings are off-limits. There will be some areas taped off. Please respect these when on site.
See you all there!!!