We've recently had some discussions with other clubs in Tasmania about hostility experienced by fossickers in the Weld River area in Moorina.
Some disturbing incidents include broken glass in camping and parking spots, large items of rubbish in the creek, aggresive confrontations with fossickers and lately booby traps in the camping area inside the designated Fossicking Area.
One particular landowner adjoining the Weld River downstream of the bridge has aggresively confronted fossickers along the river, claiming to own the land right to the center of the river. This is not true, and MRT have spoken to the land owner, though it seems like this has had little effect.
This is to clarify what your rights are in the Moorina area, and the banks of the Weld River. This is best read with the two maps below.
You are entitled to fossick in the designated Fossicking Area (

#1

in the numbered map) without needing any additional permits
The Fossicking Area is located upstream of the Frome Road bridge
The eastern bank of the Weld River downstream of the bridge is Crown Land (forestry,

#2

on map)
The western bank of the Weld River downstream of the bridge is Crown Land (unallocated,

#3

on map) The Crown Land tenure extends for at least 20 m from the river's edge
If you have a Prospecting Licence, you are entitled to prospect or fossick in the Weld River, all the way to the Ringarooma, and both banks (

#2

&

#3

)
Only areas highlighted in yellow (

#4

in map) are private freehold land
The boundary between the riparian block of crown land (

#3

) and the private property follows the edge of the paddock (you can see this better in the aerial photo map)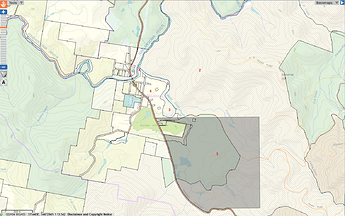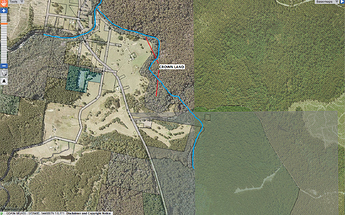 So despite what the local landowner claims, it is your right to prospect on both banks of the Weld River between the Frome Road bridge and the Ringarooma. Given the escalating hostilities, however, I would urge caution. The Police have been involved in at least one of the last few events (involving booby traps in fireplaces). If you camp there, please pay particular attention to your surrounds, and look out for hidden objects among the coals in fire pits, such as flammable liquid cans and/or bullets, shotgun cartridges and so on.
Stay safe.